Your wedding day will be be one of the most amazing days of your life. It is the moment that you and your partner will stand before your friends and family to declare your eternal love for each other, so of course you will want to make sure every aspect of the day is perfect as possible. But before you start to plan the smaller details of the ceremony you will need to choose a venue that captures the ideal tone and style of the wedding.
Here is a brief guide to a few of the venue types that are available for use on your big day.
Country House weddings
Country house weddings held on a stunning estate will provide plenty of privacy and act as a wonderful setting where a couple and their guests can get away from the confines of the city.
Booking a country house is also beneficial as it allows for a whole day or weekend to be enjoyed without the structured limitations of wedding timetables in the city, such as those you would experience when booking a registry office ceremony.
Escaping the noise of urban life will also help to create an almost fairytale-like quality to the ceremony; an aesthetic that city based weddings do not allow for. Needless to say, the countryside photo opportunities that country house wedding ceremonies offer are breathtaking.
Livery Halls
If, however, country house weddings are not for you, London Livery halls capture all the splendour of stately home wedding ceremonies without a couple even needing to leave the convenience of the city. Livery halls date as far back as the 14th century when they acted as official meeting places for many of London's influential livery companies.
With their amazing history Livery Halls bring a cultured tone to a wedding, with each hall featuring a unique interior of its own, which means there is a wide choice of halls with different décor styles to choose from.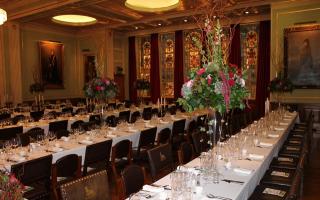 Image sourced from http://www.lifeskitchen.com/
Livery hall companies have ensured that they maintain the original classic furnishings of each property, including its original interior design, portraits, furniture and ornaments of the period it first served as a livery hall.
Such a vintage appearance will impress your guests while creating a aesthetic that guarantees you get wedding photos that boast a timelessly beautiful appearance.
Marquee weddings
Celebrating your wedding in the comfortable surrounding of a marquee is a popular choice  that will perfectly compliment the aesthetic of a beautiful garden wedding.
A marquee is also particularly useful if the couple do not want their wedding to be characterised by the existed décor of a pre-booked wedding venue. Without such restrictions a couple have the freedom and creativity to turn the marquee into a reflection of their personal wedding vision.
In addition to décor the layout can also be altered inside a marquee so that it fits whatever floor plan the couple want. From guest tables to the dance floor and bar, all amenities can be structured for the benefit of the wedding reception.
The only potential downside of a marquee wedding is that a marquee performs most effectively outside of the winter months, making them a better choice for spring, summer and autumn.
A marquee will certainly protect the interior ceremony from winter climates, but the best photo opportunities come from months when the evenings stay lighter for longer and the surrounding garden setting is less likely to get disturbed by adverse weather conditions.
Once you have decided on the right venue for your wedding you can begin the other arrangements that combine to guarantee you memories that last a lifetime.