Keeping Control of Your Young Wedding Guests
Your mattress sized Wedding Diary has a reassuring column of ticks under the heading SORTED! It's very satisfying to watch your plans progressing, but there is one area that needs attention and is often missed, namely, how do you keep the youngsters happy and under control?  People tend to fall into one of two camps when it comes to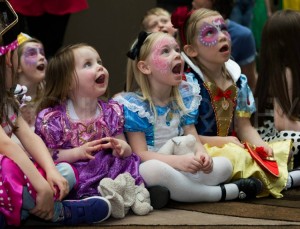 children and weddings. There's the bring-it-on-the-more-the-merrier types, where a bit of raucous behaviour provides some welcome respite from the formalities of the day. Alternatively, there is the get-me-out-here-they've-gone-feral camp, where adults recall with a shudder the tsunami of breakages, blood, fisticuffs and outright rebellion wrought by 9 children with a combined age of 37. It's your Wedding Day so you are allowed to call the shots – but if there are children in your life, there's a sure fired way to keep them focused, engaged and utterly content on the Big Day. Here's a few suggestions of Children's entertainers available for hire to achieve peace and harmony and whole lot of fun!
Children's Clown
If you think that a Clown might be old hat in terms of children's entertainment – check out what the children think first! Clowns are skilled, perceptive performers, who will engage the children in a show where puppets, practical jokes and children friendly tricks abound. Their gorgeous costumes and props will have the children glued to their seats – not literally of course!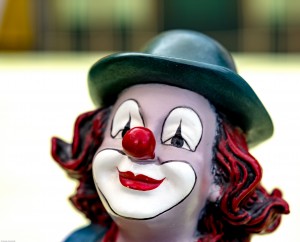 There's plate spinning, juggling and unicycle shows, and with a bit of magic thrown in too – children will be open mouthed with astonishment at their own special show. Clown shows are on the energetic side – so they are ideal for wedding venues where you can access a separate side room or outside tent. If parents wish to sit along side they are more than welcome.  Some Clowns can be available to meet and greet children after the Wedding Formalities, and run a tea party style event prior to beginning their show. This type of entertainment is ideal for situations where a formal sit down luncheon might be a bit daunting for a child – or later when the children might be getting a bit fidgety.
Story Teller
A Children's Story Teller offers a range of interactive stories, bringing toys and props that relate to the tale, together with costumes, backing music and more. Children are given the opportunity to take on the role of a character from the story – it works for natural performers and quieter children too, who can hide behind their costume! The Story Teller will encourage the children to get involved with the process, giving out puzzles and quizzes about the story. Professional Story Tellers  are used to dealing with children of all abilities and will quickly ascertain who would like or need a bit of extra support.
They will require a space to set up their Story Chair and props – and room for the children to sit comfortably. Depending on the number of children attending, 3 x 4 metres should be adequate for the Story teller and  8-10 children. If the weather allows and there is a secure area outside, your Story Teller may well have their own Teepee or Tent.  Story Telling Shows usually last for about 90 minutes and are ideal for younger children. Pick an experienced Story Teller and you'll see from their reviews and professional CV that they have the ability to capture the children's imagination, focus their energies, and keep them fully entertained.
Balloon Technician
Balloon Technicians have a host of skills that children adore. Firstly, they use colourful, stretchy balloons to create a bonkers range of animals, toys, fruit, planes and boats.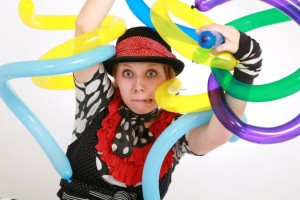 Throw in a bit of group singing and dancing, and some close up tricks and magic – and you've got a very happy audience.  Children revel in the element of surprise as one magical trick follows another, and who could resist having a life sized model of themselves made out of balloons! Anything and everything can be made with balloons and the children will get to keep their own special model at the end of the set. Shows vary in length from 30 minutes to a full two hours, which can include a scrumptious high tea – so everything is covered! Any good children's entertainer will know instinctively,  how to encourage children to take part in the show and this helps to create an environment where the children feel safe to be themselves. It's the perfect way to keep them happy – and what a wonderful set of memories for them too. Not stuck at a table, struggling with unfamiliar cutlery, but having the time of their lives with other children!
If you're in doubt as to the value of this, consider what a welcome gift you are giving your friends and family.  Anyone with parental responsibilities knows all too well, that these big social events can be tricky to manage with young children. To be offered the opportunity to safely put down the reins for a couple of hours is the equivalent of luxury spa day. Your budget won't be squeezed or stressed and neither will you on the big day. You'll be amazed at the choice of children's entertainers out there, and you'll have fun finding the right person for your perfect Wedding Party.
Find out more ideas and helpful tips in this Ultimate Guide to Booking Wedding Entertainment produced by the experienced entertainers at Entertainers Worldwide.