Are you on the same level ? Do you like their artwork ? Look for something creative this is a good indicator of their skills.
Are they experienced ? ask about a wedding they have shot that will be similar to your wedding. Get them to talk about their last wedding photo experience
What look do you want? Do you want something stylish, spontaneous, exploring the joy of the day? Well ask the photographer about their presentation materials and what look they go for? If they cannot explain properly or coherently then they are not worth their salt.
Be specific – Let the photographer know what shots you have to have and even collect some visual examples from magazine, book or web. Photographers are always looking to expand their portfolio, so don't be afraid to ask for a lot, the photographer should be delighted.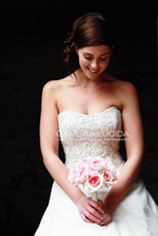 Get them to show you their albums – after all this is the legacy that you have allied to great pics. Be very wary with photo albums, some fall apart after a year and some after 5. I have seen it myself, especially with digital photo albums. It may be worth paying a fraction extra for archival quality with something well made and individually crafted.
Bespoke package – photographers will have packages that they create based on discounts from printers. However, they are creating your book and you are hiring them to produce 1st class work.  You need to let the photographer know about what you want and then let them come back to you with a quote.
So in essence
1)   Are they listening to you?
2)   What are the quality of their albums? Flimsy? Archival?
3)   Ask them what their style and approach to wedding photography is
4)   Would you trust that photographer to record your day?
Article written by Jonathan Talks