Article provided by Joyce Connor, owner of Brides and Beauty
1. Choosing the style
You'll want to look wonderful on your wedding day, so take control.  Rule out the styles that you wouldn't personally feel comfortable with; this will help with the final choice. It does not matter what your mother, sister, best friend or hairstylist like – what really matters is what you want and like.
2. Browse Magazines and the Internet for ideas
Before booking a stylist, try to develop a good idea of what type of hairstyle suits you best. Cut out pictures of your favourite styles from magazines, print pictures from the Internet and take them with you to the trial appointment. If you can't find any pictures, be prepared to give a very clear description to the stylist.
3. Does it go with the dress?
Purchase your wedding dress first and then decide which hair style and accessories will best compliment both you and the dress. Take a picture of your dress with you when you visit the stylist so they can give you the best advice on how to achieve total harmony between dress and hairstyle.
4. Trial Run
Have a trial run before your wedding day. I would recommend this trial run to be 6 weeks before the day itself. If the hairstyle that you dreamed of does not look as good as you'd hoped, you'll be glad you found out before the big day! Bear in mind that the thickness and length of your hair may not be suitable for your chosen style. Make sure you take your veil, tiara or any other accessories along to the appointment.
5. Comfort Levels
During the trial run if the pins or hair accessories are causing discomfort, let your stylist know so they can be adjusted. The last thing you need on your wedding day is painful pins!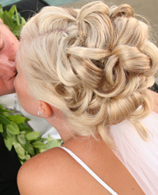 6. Take pictures
At your trial appointment take along a digital camera to take pictures. Ask the stylist to take pictures from all angles. The photos will give you a better idea of how the style would look to other people.
7. A Fresh Approach
If you want to have your hair coloured, or to have any other chemical treatments for the big day, try to have these done a few weeks before so that the colour has time to settle down. Have your final trim or cut no later than two weeks prior to the wedding date.
8. No Change Here
Just before your wedding is not the time to try out a drastic new look, such as cutting your long hair into a short style or completely changing the colour. Your husband and guests will be left wondering if it's the same person!
9. Tall or Short
If you are taller than the groom or you are both the same height, avoid a high hair style as this can add quite a lot of height to the bride. Also take into account the height of your shoes. A bride that is much shorter than the groom can use a 'hair up' style to even out the height difference for those all important wedding day photos.
10. Sleek and Glamorous
Try not to have too elaborate a hairstyle. While it is undoubtedly a very important part of your whole bridal look, on the most important day of your life it is beautiful you, not just your hair, that should be the point of your guests', and your groom's, attention.
Article provided by Joyce Connor, owner of Brides and Beauty