Wedding receptions. The most fun part of any wedding. The time to relax, enjoy and stuff your face with scrumptious food. Oh, and enjoy your first dance as a married couple – that's the most important part, clearly.
How do you plan to sort your wedding reception out without it costing an arm and a leg? You finish reading this article, that's how!
An inside reception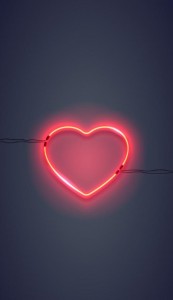 You've decided on an indoor reception, perfect! Now, how do you chose the venue? Of course, you'll want it close to the wedding ceremony so that people don't have to travel. Some places that specifically cater for weddings will have a reception hall or an area for your party after the ceremony.
However, more nontraditional wedding venues may not. Hence why you should find a local hall or indoor space to host your ceremony, before you book the wedding venue. You don't want to book a venue then later find there's no indoor room near to hold a party.  
Money-saving tip
Ask your friend or family member who has the biggest shed or barn (if you know any farmers) if you can hold your reception at theirs. You can offer them money to rent it out too, which will cost less than renting out a hall.
An outside reception
So, you'd prefer your reception out in the wilderness? Well, not quite wilderness, probably more like in a large garden or park, but you get the picture. As long as the weather is decent, an outdoors reception is a brilliant idea!
If you want to buy canapes for the reception it's a good idea to read up on reviews of the types the shop has. This will allow you to get the best canape for the predicted weather and one that will comfortably fit you and your guests.
It also helps to price check because they can be expensive depending on the size, material and quality. Reading others reviews gives you a clearer idea of what the canape will be like too, seen as their responses will be from experience.
Money-saving tip
Host the reception at a public park (some may require permission, so check before).
Food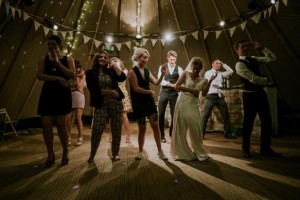 For vegans or vegetarians, you can make skewers using tofu from Clearspring as an alternate no-meat option. As for allergies, you could make a 'nut-free' zone and a 'lactose-free' zone etc. for all the main food allergies.
You don't need to go overboard with this though, just a few 'free-from' food zones would add an inclusive touch to your wedding reception.
Money-saving tip
Cook the smaller dishes/snacks yourself with the help of family and friends. It would be stressful and too much to do for you to do all of the food, but the small stuff can easily be done by yourself and will drop the food catering cost down.
Hiring a caterer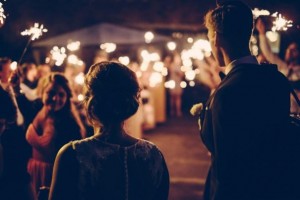 If you're planning a fairly large wedding reception, hiring an organised caterer will take a lot of stress off your shoulders. Caterers can sort out the food menu for you and suggest ways to keep the costs down but quality up.
Again, reading customer reviews for all the caterers you are interested in hiring is the best way to go about this. Plus, it helps if you know people who have recently hired the same caterers so that you can get a realistic view of what they experienced with the company.
Money-saving tip
Shop around! If another place offers a cheaper catering service, but you really want the more expensive company, mention to them that the other place is less expensive but offers the same service. You never know, they could drop the price a little!
What's your opinion?
Do you have experience with planning a wedding reception without spending a ton of money? Please share your experiences and tips for our other readers to adopt at their own wedding.
This is a sponsored post.