The accessories brides wear on the day of their wedding is just one of the many decisions a bride will have to make when planning their big day.  What will they wear in their hair?  Should they go for a tiara or a comb?  Will they wear their hair up or down and will a tiara complement that best or should they go for a simple headband?
Bridal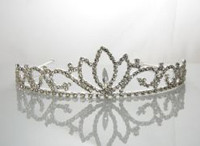 jewellery comes in an array of designs and colours and is made using different types of beads and stones, these include Swarovski, diamante, freshwater pearls, Mother of pearl, Venetian glass and seed beads.
Tiaras are a very popular choice of headwear for a bride. They come in an array of shapes, sizes and designs ranging from regal diamante styles to intricate handcrafted styles using wires and beads. The choices are endless.
It is recommended that you choose your accessories after choosing your dress rather than before. If you opt for a Cinderella style ball gown wedding dress that is adorned with sparkling crystals or one that has a busy lace pattern, it would be wise to go for very simple, contemporary accessories. Maybe a delicate crystal or pearl necklace and simple headband or comb in your hair. To go for anything more ostentatious would be overkill and would detract from the beautiful presence of your dress.
On the other hand, if you opt for a classic, simple style then you can really go to town on your accessories by choosing the biggest, sparkling tiara you can find to an extravagant statement choker or cuff bracelet.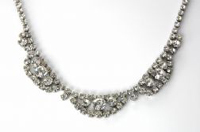 The trend for vintage bridal jewellery is huge at the moment. Gorgeous statement diamante vintage necklaces from yesteryear look beautiful if worn with a vintage lace dress. A 1950's diamante brooch for instance can transform a very plain dress by placing it on the sash or placed on a faux fur stole. You can also add a touch of glamour to your bridesmaid dresses by attaching a diamante brooch. Why not also combine your vintage find as your "something old". Have a look and see what is lurking at the bottom of grandma's jewellery box, you never know what treasures you may uncover!
Swarovski crystal is still by far one of the most popular choices for brides when they are choosing their jewellery and wedding accessories. The AB coating on the crystals give a dazzling rainbow effect when it catches the light and this is what makes it such a glamorous choice for the bride on her wedding day.
You naturally want to feel a million dollars on what is, one of the most important days of your life. By choosing the correct accessories and jewellery will only serve to help making you feel like a princess on your special day.
Article written by kerryblu