When you're walking down the aisle, you really desire Makeup to be flawless. Professional Bridal Makeup Artist Isabelle Roberts of Makeup By Isabelle reveals the hottest tips for our 2010 brides.
Elegance. This is the key word for Brides. As a Bride you need to be brave and steer away from the natural look. The natural look always points towards a washed-out looking bride on her photographs. You need to start thinking grown-up beauty with a touch of glamour. Be brave!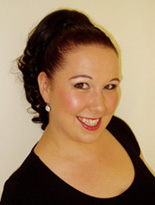 There are many magic rules all Brides in the know can follow. Steer clear from the old myth of playing up either the eyes or the lips. You are one complete canvas and with clever techniques and a bespoke colour pallet, your entire makeup look will flawlessly seam together.
It's all about definition. Sheer, pretty shadows teamed with a heavier lash line is both pretty and emphasising. You really don't need 6 colours of eyeshadow and complex application. By choosing complimentary colours like pinks and silvers and peaches and creams, you are allowing the colours to do all the work for you. Add a little light-reflecting eyeshadow shimmer and your look is modern and fresh for that bright doe-eyed look!
Isabelle recommends making use of all the wonderful lash products on the market. Individual lashes can do so much to open up your eyes. By applying a few on the outside of your own lash line they will lift and open up the eye in an instant! There are also some amazing false lash effect mascaras out there that do just the trick. Concentrate on those outer lashes and comb between applications and you will literally flutter down that aisle!
For Liners, go for a soft and sooty black. Brown is dulling and can actually make you appear tired and sallow. Liquid liner can also be harsh and can look far too trendy and young on camera. You require your eyes to have a beautiful soft focus look to them so think smudgy.
For lips, they are glossy and sheer with a pop of colour. Your lips don't need to be bright. It's all about testing colours that will suit you and link to your look. One pro tip is to avoid all the long wear lip products out there. They tend to be drying and will flake over time. Sadly, re-applying your lip colour throughout the day is the only answer for beautiful plump lips. So keep your lipstick handy in your little bridal bag!
Brides are experimenting with colour and why not! One fabulous way to use colour is on the cheeks. There are some ultra pretty and feminine cheek products out there. Isabelle recommends using a cream blush to define your cheeks and finish off with a powder blush with a little shimmer to really give your cheeks that beautiful bridal flush. Combining the two products will prove a longer lasting colour and definition to the cheek. Colours that are beautiful are peaches and antique rose pinks. Try not to go for baby pinks which can make you look far too flushed. Think pretty and natural for that "pinch your cheeks" flush.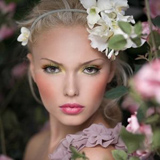 There are many wonderful products out there to be explored. Over her many years as a Bridal Makeup Artist Isabelle has discovered many brides feel overwhelmed with makeup choices. Isabelle always recommends her brides gather up inspirational photographs and colour swatches and bring them along for a makeup master class. Masterclasses advise you on colour and products to suit you individually and avoid you spending hundreds of pounds on products you may never use again. By gathering the information together, you will have a clearer idea of how you want to look on the say and not feel so bogged down by
the science of makeup!
So when it comes to planning your fabulous entrance, make sure you do it with confidence and glamour. Think colour, shimmer and fluttery lashes. Most importantly, be brave!
Isabelle is an established professional Bridal Makeup Artist and is available in the North West of the UK. Please visit her website for further information.