Norfolk has something truly beautiful sites for having a fairy tale wedding. Set in the most stunning views of the Ormesby Broads and 11 acres of private parkland gives you the real wow factor of the surrounding beautiful waterways of the broads and the outstanding venue.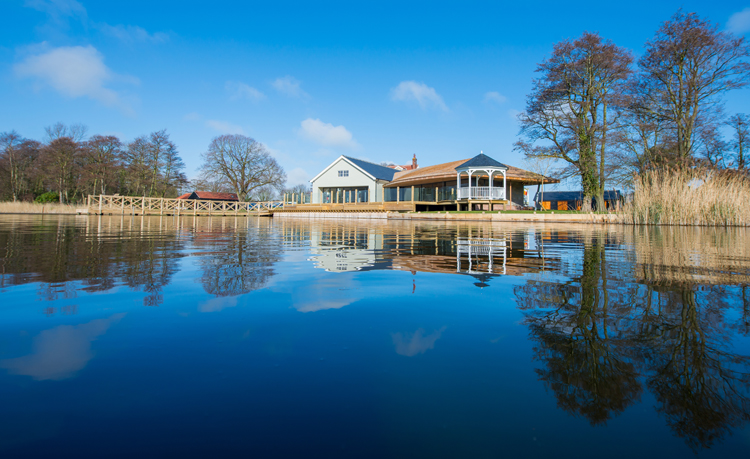 The Old Eels Foot Pub and Boathouse have been fully refurbished to offer a fairytale setting for a wedding venue. To offer on your special day is a choice of fine cuisine with luxury accommodation and fully equipped wooden lodges for your guests to reside in.
Wedding packages are priced according to season to cater to everyone's budget.
Visit website: www.theboathouseormesbybroad.co.uk
Facebook: facebook.com/TheBoathouse
Twitter: twitter@TheBoathouse
---
Nestled in Norfolk lies the answer to "Downton Abbey", within a private estate surrounded by parkland and formal gardens sits Somerleyton Hall. This is like escaping back in time with its large maze to lose yourself in while you take in the beauty of the scenery.
Somerleyton grows its own produce which will be included in your reception and there is also a choice of a wedding breakfasts.
Civil ceremonies are also licensed here so there is an overall emphasis on catering to everybody's needs. There are various reception rooms to hold your service in and the option of being outside in the Winter Gardens. There is also an option to hire the main Hall for a 2 night house party or to have a more intimate experience there is the use of the boutique style State bedrooms.
Visit website: www.somerleytonweddings.co.uk
Facebook: facebook.com/SomerLeytonHall
Twitter: twitter@SomerleytonHall
---
Norfolk is the perfect place to escape to to find the English Gentleman's countryside, here the backdrops are perfect for wedding venues and beautiful estates surrounded by the breathtaking landscapes.
After a 2 years  Bressingham Hall and High Barn have been immaculately restored to its former glory and is a Grade 2 listed building.
The venue is set in 12 acres of land with a backdrop to collaborate with photographs for your wedding day. The Hall and Barn are full of countryside character to give that extra special feel to your already special day.
Visit website: www.bressinghamhall.co.uk
Facebook: facebook.com/BressinghamHall
Twitter: twitter@BressinghamHall
---
As picturesque as Norfolk settings can be, with all its history in various Churches and Abbeys in the region, there lies in a 35 acre estate a 14th century Pentney Abbey. This countryside holds a jewel in its crown with this timeless beauty ready to be shared on your special day.
The Grade 1 listed Gatehouse is the entrance to the estate  with giant wooden doors that open to reveal the courtyard which presents a rose garden and water fountain to make a perfect backdrop for photography.
If you are looking for a serene venue with accommodation and local places for your guests to stay this is the perfect stay and only an hour drive from Norwich so close enough for your guests to venture out to the city.
Visit website: www.pentneyabbey.com
Facebook: facebook.com/PentneyAbbey
Twitter: twitter@PentneyAbbey
---
In the centre of Norwich and literally a stone's throw from the breathtaking Cathedral lies a beautiful Tudor building steeped in history and local folklore.
Here you will find the Maids Head Hotel, the exterior painted in the traditional Tudor colourings with ample parking space at the rear of the building.
A wedding planner is available to help cater for every bespoke need with the traditional wedding through to civil ceremonies, wedding themes and decor vary throughout the year including a tree and trimmings if you were attracted to a Christmas wedding.
Visit website: www.maidsheadhotel.co.uk
Facebook: facebook.com/MaidsHeadHotel
Twitter: twitter@MaidsHeadHotel
---
If you're interested in a personal touch with a family run business, in the pretty rural setting of Crostwick, close to Norwich lies The Old Rectory Hotel.
A personal wedding co-ordinator is on hand to assist with all your needs and to show you around the various locations around the venue. Inside there is the conservatory restaurant which is available for receptions and civil ceremonies and holds up to 150 guests or 110 seated. For smaller parties there is the Victoriana suite which caters for up to 60 people.
A wedding Butler is also on hand for your special day to co-ordinate and announce events.
Visit website: www.oldrectorycrostwick.com
Facebook: facebook.com/OldRectoryCrostwick
Twitter: twitter@OldRectoryCrostwick
---
Throughout Norwich there is an array of historical buildings, one of the most important and renowned in the area is The Assembly House that dates back to 1754. This Grade 1 listed building is opened up by a sweeping driveway that leads you to this grand venue.
An in-house wedding planner is on hand to guide and assist with every detail of your day. There are a selection of rooms to choose from or you can book the house in its entirety.
There are picturesque gardens which make the perfect backdrop for your wedding photography, alongside many of the grand rooms available.
Visit website: www.assemblyhousenorwichco.uk
Facebook: facebook.com/AssemblyHouseNorwich
Twitter: twitter@AssemblyHouseNorwich
---
Nestled away inside the beautiful countryside of North Norfolk lies Gunthorpe Hall, an immaculate Georgian Victorian country hall.
The formal gardens, parkland and private lake cushion this stately home into the perfect setting for your special day.
As you enter the building you are greeted by a long carved staircase which leads you into the Oak Hall and Sitting Room for your choice of service. There is also the option of having your service in the gardens by the lake in a marquee, yurt or wigwam.
Catering for your guests are carried out by an in-house team using the halls own home produce.
Visit website: www.gunthorpehall.co.uk
Facebook: facebook.com/@GunthorpeHall
Twitter: Not on Twitter
---
If you wanted to be just on the outskirts of Norwich with just a 15 minute journey away and yet also be within the heart of Norfolk then look to Hockering House.
The real emphasis here is with the house is to have your day your way and for your every need to be catered for. The owners, Sam and Oliver Berney are there to assist with your bespoke wedding to ensure the day fits you and your partner perfectly.
Hockering House is licensed for both civil weddings and partnerships, duo ceremonies, vow renewals, naming and humanist ceremonies.
Visit website: www.hockeringhouse.co.uk
Facebook: facebook.com/HockeringHouse
Twitter: Not on Twitter
---
In the crown of Norfolk there are many hidden jewels, laying in the heart of the area is Hunters Hall. It consists of a beautiful stunning brick and wooden beamed Victorian barn, to which there is room to accommodate 120 guests for your ceremony or 70 guests for a wedding breakfast.
There are also other venue choices with the Park Room and the Marquee Lined Barn. Being set in such a specific rural location provides the ideal setting for capturing your wedding photography.
Only one wedding is booked per day so you have exclusive use of all the facilities at the Hall.
Visit website: www.HuntersHall.co.uk
Facebook: facebook.com/Huntershall
Twitter: twitter@Huntershall