Joyce Connor, owner and founder of Brides and Beauty (www.bridesandbeauty.co.uk  is a well known skincare and makeup expert who specialises in creating top to toe beauty for brides.
Beautiful Hands on your Wedding Day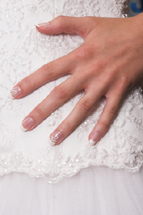 The glow and clarity of your skin and the perfection of your make-up is all important on your wedding day, but don't forget about your hands.  There will probably be close up photographic shots of your hands, holding the bouquet, showing off your ring, cutting the cake and clasping the hand of your new husband so don't allow them to let you down.  Your hands say a lot about you as a person so to make sure that they look fabulous on your wedding day you should begin working on them at least a month before the big day. Regular manicures will get them into peak condition and ensure well shaped nails and beautifully soft skin in time for the special occasion. If you're on a tight beauty budget a professional manicure the day before your wedding may be out of the question, so knowing how to do a home manicure will be of great help to you.
When doing a home manicure start by removing old polish with an acetone free nail polish remover. Rinse hands in warm water and massage a hand exfoliator all over hands and nails and around the cuticles and in-between fingers.  Rinse off and pat dry.
Apply one drop of warm cuticle oil or cuticle cream and massage around the cuticle and nail plate. Use a cuticle tool or orange stick to gently push the cuticles back and unstick them from the nail plate. Rinse your nails in warm soapy water. Regular cuticle massage during the month before the wedding will prevent hangnails forming and skin splitting around the nail.
Trim the nails, if necessary, with nail clippers rather than scissors.  Scissors tend to split the nails so I don't recommend them. Use a soft flexible emery board to file across the top o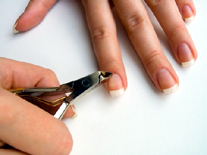 f each nail.  File the nail in one direction only from side to centre, do not use a sawing action because this can cause the nails to split and peel, as do metal nail files. Use the edge of the emery board to smooth away any surplus bits of filed nail.
Once you have achieved the desired nail shape apply a thick layer of hand cream to hands and put each hand into a cotton glove. After 10 minutes remove gloves and massage any excess cream into hands and up your forearms.
If you wish to paint your nails degrease them first with a cotton pad soaked in an acetone free nail polish remover.
Apply a base coat to each nail from base to tip and allow to dry for a minute or two. Apply two coats of your chosen colour allowing a few minutes between each coat for the colour to dry and finish with a clear top coat.
Handy tips
The month before the wedding:
Don't use nails as tools e.g. removing staples, scraping.
Wear an SPF, minimum factor 15, when not indoors to protect hands from sun damage and age spots.
Wear gloves in winter to protect them from the harsh cold winds and prevent chapping.
Always apply hand cream after washing your hands or having them in water.
Regularly use a cuticle oil or cream at bedtime to nourish the cuticles. Buffing your nails is great for smoothing ridges and giving natural nails a glossy shine. It also helps to remove slight nail staining and increases the blood flow to the nail which in turn helps the nail to grow. Only buff from base to tip 3 or 4 times. Never buff the nails horizontally as this causes vertical ridges to develop by drying out the nail plate because the nails' natural oils evaporate from the surface.
Always wear protective gloves to do cleaning, washing up dishes and gardening. Harsh chemicals can be very drying on the hands.
Follow these beauty tips and you will not only be prepared for the close up shots of your wedding ring but even more importantly, to give away your hand in marriage to your wonderful new husband.
Article provided by Joyce Connor, owner of Brides and Beauty