The wedding cake is one of the most important details in any wedding. The cutting of the cake is one of the first tasks the couple will complete together as husband and wife, so the cake has to look and taste good. It's going to be one of the most photographed moments of the wedding and one of the many things your guests will remember from your wedding.
There's many things you need to consider when choosing your wedding cake…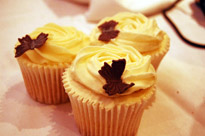 Firstly decide on how many people does it need to feed? From this point you can decide on flavour and style. It's best to discuss flavour options with your partner – after all its your wedding so choose flavours you will both enjoy and if you're opting for a tiered cake then why not opt for different flavoured tiers.
If you decide you want a cake covered in chocolate take into consideration what the weather will be like, if its summer there is the chance that the cake will start to melt, the same applies with using fresh fruit,cream, or buttercream if you want the cake to be a focus of your wedding be careful when choosing one of the above as they can't sit out in the open for more than a few hours which means that the look and taste can be ruined.
In terms of icing, the best option to use is a rolled out icing (fondant) this can be coloured in virtually any colour, it can sit out in the open to be admired by your guests and the design possibilities are endless.
Once you've decided on t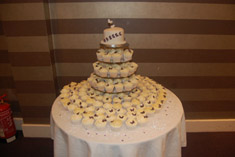 he flavours think about what style you would like, do you want a tiered wedding cake? how many tiers? do you want them stacked on top of each other or separated? Consider how many people it needs to feed if you're having a small wedding and only need to feed under a 100 people but you want a 5 tier wedding cake ask your cake maker if they can insert dummy tiers into your cake (these are just polystyrene boards decorated the exact same way as your cake, and it can lower the costs but do take into consideration although it is not cake it does still take the cake maker the same amount of time to decorate it) and as long as no one tries to eat these no one will ever know its fake!
Or would you prefer cupcakes? these can be individually crafted and styled to your theme, there's no need to have to cut them up to worry about portion size and guests can take them home instead of eating it straight away or you can get them boxed up and double them up as favours or place names, and don't worry cupcakes can certainly have the same wow factor as a 5 tier cake.
Depending on your budget and you chosen cake maker you can have several different styles, flavours and even have them personalised to each guest.
Once you've decided the fundamentals above you can get to the exciting bit of designing, choose a colour palette to complement your theme or wedding dress. For fun and funky cakes choose bold contrasting colours, for something more chic and sophisticated use colours from the same colour palette so they complement each other.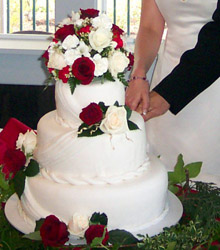 Vintage and lace will be one of the biggest trends this wedding season think big brooches, ribbons and lace detail. monochrome and different size tiers will also be another big trend.
Many wedding cakes are decorated with fresh flowers and can look absolutely stunning, if you're using fresh flowers to decorate the venue you can use some to decorate the cake this will tie in all the details together or just use them to dress the table. Again with flowers take into consideration the season you're getting married in your favourite flowers may not be in season, some flowers wilt as soon as there taken out of water. Dont worry your cake maker or florist can advise you on what flowers are in season and what would work well.
It's your wedding, your PERFECT wedding cake is what you want, what you've always dreamed of so make sure your designs and opinions are put across to your cake maker, show your cake maker your wedding outfit, where you're getting married, your colour palette. there are a number of things to think about when choosing your wedding cake utilise your cake maker they can help you make most of these decisions they will tell you what works well, the best way to set up and display your cake.
Article by The Sugar Boutique